Niagara Falls Educational Packages
Thrilling attractions become the backdrop for reading, writing and arithmetic. Lesson plans developed by teachers for the Fallsview Indoor Waterpark, Rainforest Cafe, Hershey's Chocolate World, and 4D Theatre make learning fun.
For more information on Educational Packages contact a member of the Sales Team at sales@niagarafallshotels.com or (905) 374-4445.
Falls Avenue Educational Packages Include:
Fallsview Indoor Waterpark – Slide into Science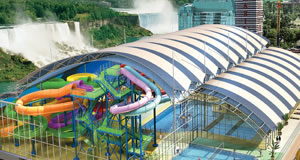 Make a splash with your students! Specially developed lessons plans offer students from Grades 3 – 8 an opportunity to flex their problem solving muscles. Fallsview Indoor Waterpark educational packages are designed for students to solve challenges by examining plant operations, slide construction, and park advertising communications. A versatile curriculum offers elementary to intermediate students the chance to use math, science, and media literacy principles.
Grades 3-4
Science, Math and Media Literacy are used to examine Life Systems, Patterning and Algebra, media texts, and much more.
Grades 5-6
Lesson plans include electricity, patterning and algebra, creating media text, and more.
Grades 7-8
Math and Media Literacy are the focus of the intermediate curriculum, as geometry, measurements, creating media forms, and much more are highlighted.
If you need more time at the park the Fallsview Indoor Waterpark is happy to accommodate with a Waterpark overnight package. This package includes one night's accommodation at the internally connected Skyline Inn, Waterpark admission (from date of check in till 3pm the following day), movie night in the Skyline Inn's enclosed courtyard, and breakfast at Perkins Restaurant & Bakery.
Rainforest Cafe Educational Adventure
Created for students from grades K-6, the adventure begins here. Tame the Jungle as it comes to life at Rainforest Cafe Niagara Falls. A 6000 gallon live Shark Exhibit welcomes students to their ecological classroom. Lesson plans highlight the world's tropical rainforests, endangered species, conservation efforts, and the care of aquatic creatures.
Grades K – 2
Science, Social Studies and Language Arts come to life through seed germination demonstrations, and examination of the Rainforest Community.
Grades 3-4
Students learn about soil erosion, and layers of the Rainforest, by examination of the Rainforest Model, and activities.
Grades 5-6
Science, Social Studies, Language Arts, and Math are incorporated into a curriculum involving Rainforest Activism, Changes in the World, and activities.
4D Theatre – Diving Deep into the Sea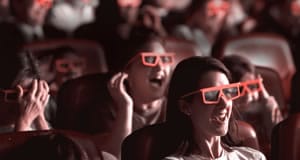 Deep Sea the ride takes Deep Sea Biology, Geology and technology out of the classroom and into the Iwerks 4D theatre. A simulated ride with in-seat motion make the dive feel real, as students will play the role of passenger in the most advanced submersible ever built. Students will follow a Sperm Whale on it's dive to the bottom of the sea floor, learn about the crushing depth of the ocean, and meet the sea creatures that inhabit the deep.
Curriculum combines fun facts, interactive activities, assignment ideas, teacher and student resource listings, and discussion topics.
For more information on Educational Packages contact a member of the Sales Team at sales@niagarafallshotels.com or (905) 374-4445.