Niagara Falls Restaurants & Dining
Guests of the Skyline Hotel & Waterpark are surrounded with dining choices ranging from scenic Fallsview restaurants, a jungle safari or all day breakfast. Direct indoor connections from the Skyline Hotel & Waterpark through the Falls Avenue internal skyway keep you directly connected to the best restaurants on Falls Avenue.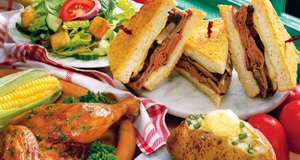 Perkins Restaurant & Bakery
Enjoy breakfast all day! The Perkins Restaurant & Bakery offers a wide selection of family friendly appetizers, entrees, and desserts, for each meal of the day! The delicious options at the bakery make for a great mid day snack. Located in the Skyline Hotel & Waterpark, Perkins Restaurant and Bakery is a family favourite.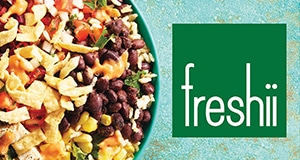 Freshii
Discover nutritious food and drink items like they've never been done before at Freshii, located inside the lobby of the Sheraton Fallsview hotel. Freshii offers a customizable menu of salads, smoothies, juices, bowls, burritos, soups, and wraps, making healthy eating both convenient and affordable while staying in Niagara Falls. Keep your healthy lifestyle on track with Freshii's high-quality meal options and experience amazing signature items that will leave you feeling energized.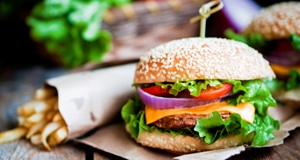 Terrace Food Court
Located in the Casino Niagara atrium, the Terrace Food Court is a convenient stop for a quick snack or meal. The food court is home to Subway, Pizza Hut, Nashville Chicken and the Great Canadian Burger Company.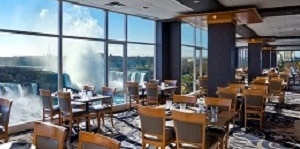 Fallsview Restaurant
The Fallsview Restaurant provides one of the best views of Niagara Falls in the city, and one of the best dining experiences as well. Guests of the Fallsview Restaurant are rewarded with a pleasing mix of a modern but relaxed atmosphere, and delectable dining that is sure to please guests of all ages and appetites.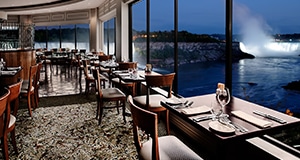 Prime Steakhouse Niagara Falls
Prime Steakhouse Niagara Falls is a contemporary steakhouse with classic Fallsview flair. It has an inspired menu of steak, fresh seafood, and other classic favourites along with hand-crafted cocktails and an extensive menu of local and international wines. Prime offers memorable Fallsview dining that's perfectly suited to your taste and is the #1 Restaurant in Niagara Falls on TripAdvisor.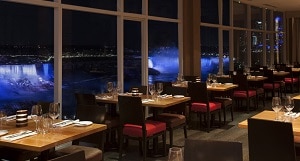 Massimo's Italian Fallsview Restaurant
Massimo's Italian Fallsview Restaurant presents an exquisite Italian dining experience in direct view of the magnificent Niagara Falls. Located on the dining level of the Sheraton Fallsview hotel, Massimo's Italian Fallsview Restaurant offers spectacular Italian cuisine, an extensive wine list, and high-quality, often locally-sourced ingredients that reflect Chef Massimo Capra's distinctive connection to both Italy and Niagara.
Rainforest Cafe Niagara Falls
The Rainforest Cafe surrounds you with the sights, sounds, and tastes of an exotic adventure located in the heart of the Niagara Falls tourist district.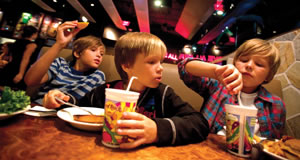 Hard Rock Cafe Niagara Falls
A legend in providing great food in a fun environment is the Hard Rock Cafe Niagara Falls, featuring a tex-mex menu surrounded by Rock memorabilia.
Niagara Distillery
Hand-crafted spirits and legendary BBQ, right at the Falls!  Niagara Distillery's 6 flavourful signature spirits are ideal on their own or mixed to create your favourite cocktail.  Add a mouthwatering menu featuring BBQ competition favourite Billy Bones and the result is a unique Niagara Falls Restaurant experience.  Located at the corner of Falls Avenue and Clifton Hill, the Distillery menu features pork ribs cooked low and slow to highlight Billy Bones award winning dry rub and classic sauce, in addition to juicy burgers, smoky brisket, broasted chicken and more.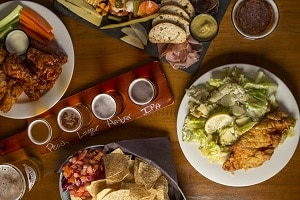 Niagara Brewing Company
Niagara Brewing Company proudly blends Canada's rich brewing heritage and today's innovative craft beer scene. Guests will find signature beers and seasonal features that have been skillfully weaved from locally sourced ingredients on the rotating taps. To round out the experience, the menu offers a selection of tasty bites like delicious broasted wings, house made guacamole & chips, giant pretzels with dips and sandwiches.  The brewery also features two outdoor patios; one overlooking Niagara Falls, live music and daily "hoppy hour". Niagara Brewing Company is one of the best spots to be in the tourist district!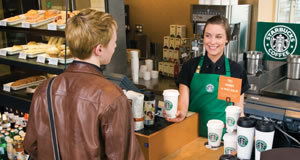 Starbucks Cafe
A short walk from the Skyline Hotel & Waterpark provides two Starbucks, both open early to offer you the perfect start to your day.