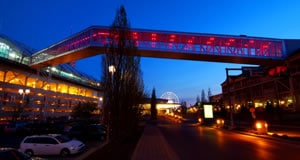 Found within the Falls Avenue Resort and connected to the Fallsview Indoor Waterpark through an indoor skywalk is the Skyline Inn, possibly Niagara Fall's most kid friendly hotel.
Not only does the location make it easy to get to the Fallsview Indoor Waterpark in any weather conditions, but it also has several amenities to make life easier for the parents and more fun for the kids.
The Skyline Inn is one of the very few hotels that feature bunk bed guestrooms. The bunk bed rooms can accommodate six people and are of course just way more fun. All of the newly renovated rooms also feature in-room refrigerators, new bedding, an over-sized club chair and a work desk.
In addition to the bunk beds, guests of the Skyline Inn can enjoy movie night in comfort, pajama-style! Every night that the Fallsview Indoor Waterpark is open families are encouraged to bring their blankets, pillows and munchies to the indoor courtyard to watch a current family blockbuster movie.  The courtyard is turned into a giant "living room" with an extra large movie screen. Children are encouraged to set up camp and unwind after a busy day of sightseeing and splashing in the Fallsview Indoor Waterpark.
While the kids may love the bunk beds and movie nights, parents will love how kids stay and eat for free. Guests have the choice of dining at Planet Hollywood or Perkins Restaurant. Guests choosing to dine at Planet Hollywood will receive a children's meal free when purchasing an entree valued at $17.95 or greater during lunch or dinner. Diners at Perkins Restaurant qualify to receive one Kid's Meal including beverage for each adult entree with beverage purchased for dinner only, available after 4pm.
The next time that you're looking for a kid friendly hotel option that is close to all of the fun, take a look at the Skyline Inn!