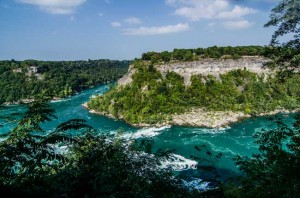 The Niagara Glen is opening for the summer so make sure to check out this cool attraction unique to Niagara Falls! Full of educational displays about animals, nature and geology, the Niagara Glen Nature Centre is perfect for a family outing. Learn all about Niagara Falls and the nature surrounding the area and ask on-site Naturalists all the questions you have.
The entire centre is self-funded and volunteer driven, where purchases made by visitors are put directly back into the centre. Here are just a couple of ways the centre has been using its funding to enhance Niagara Falls.
Plant Conservation – Discover the natural history of the Niagara Corridor and all the hard work that has gone into preserving the unique plants found in the area. Over the years, the team has been dedicated to restoring the area and allowing it to grow and reproduce to its full potential for visitors to enjoy.
Environmental Initiatives – The Niagara River, which winds through Niagara Falls, is an environmentally sensitive area that has been taken care of by the team at the Niagara Glen Nature Centre. The funds are taken to manage these lands and to ensure that they are safe from damage.
Species at Risk – You might be surprised to know that Niagara Falls is home to many species that are at risk. The centre has taken the time to help these species stay in their natural habitats and preserve the delicate ecology of the Niagara Region.
If you are interested in visiting the Niagara Glen Nature Centre, you can join a Park Naturalist on a free guided tour to learn more about the natural world of Niagara Falls.