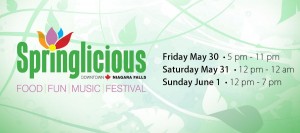 With the warmer months finally here, now is the time to enjoy the many food and music festivals taking place throughout Niagara.
Springlicious, the three-day street festival is taking place in downtown Niagara Falls from May 30 – June 1. The festival is featuring three stages of music, food vendors, specialty goods and pop-up shops fit for all ages.
This year's festival will have carnival games, interactive entertainment and great music from Juno-award winning band Sloan. For anyone visiting from out of town that wants to get a taste of Niagara, the festival will be welcoming food and beverage vendors such as Pig Out Roasters, The Greek Wagon, Beaver Tails, Smoke's Poutinerie, Alfie's Lemonade, Paris Crepes Cafe and much more. The entire family friendly festival will span over six blocks in downtown Niagara Falls.
Special activities will be available for children of all ages as well, including face painting, hands on experiences with reptiles from the Reptile Kingdom and the Rumbler Ride, just to name a few.
The spring-focused festival was created by Celebrate Old Downtown Community Corp., a not-for-profit organization that promotes Niagara Fall's bustling downtown. In an attempt to make the downtown livelier, Springlicious is working to bring in local residents and visitors from around the world to enjoy a weekend of springtime fun in Niagara Falls.