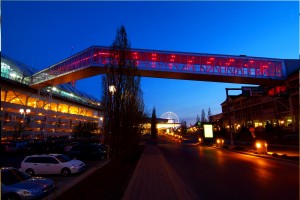 With artistically driven events happening every week in Niagara Falls, you'll have no shortage of ways to experience Niagara's cultural side.
Events celebrating local music and art take place year round in Niagara but below are a few events that you can only catch this summer.
Willowbank 11th Annual Jazz Festival
Enjoy an easy Sunday afternoon in Niagara with Niagara wine, beer, delicious food and soothing jazz. On June 15th head to the Riverbend Inn on the Niagara Parkway for the Willowbank 11th Annual Jazz Festival. This live jazz festival will welcome The John Sherwood Quartet, Jackie Richardson, Russ Little & His Quartet, as well as a tribute to Peter Appleyard.
Female Self-Representation and the Public Trust
RiverBrink Art Museum will be hosting an exhibit on Mary Evelyn Wrinch's stunning artwork. Wrinch is known for her colourful paintings and printmaking that she created while working in the Toronto area during the first half of the 20th century. Relive her collection and study her beautiful paintings that examine gender and history.
Niagara Concerts Presents Brass Transit
The Scotiabank Convention Centre will be erupting with music when Brass Transit visits Niagara Falls for the Niagara Concerts series. The 70's was a time filled with great music and a relaxing way of life and Brass Transit will leave you reminiscing about the era with its hits from 1970s Chicago.
One of the most celebrated theatrical festivals in the world is located just 15 minutes from Niagara Falls. Beginning in 1962, The Shaw Festival has been producing world-class performances of George Bernard Shaw's plays as well as several selections from other classic playwrights through the ages. This year's festival runs until October and features classic plays such as Cabaret, The Philadelphia Story, The Philanderer and many more.
Make your way to one of these events in Niagara Falls and enjoy a day filled with beautiful art and music. Whether its paintings, music or live theatre, these events will leave you with an appreciation for Niagara's art scene.