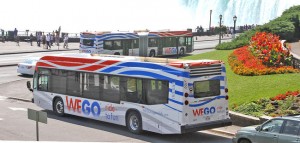 Niagara Falls has tons of attractions to offer but what are the best ways to get from point A to point B? It's easy! From public transportation to bike rentals there are multiple ways you can get around in the city with little effort!
WEGO: The WEGO busses offer an easy option for tourists to visit the top attractions around the city. Visitors of the city can use this service year-round for a convenient option that has several routes running throughout the city and its most popular districts.
Car: If you want to get around the city using your car, Niagara Falls offers tons of parking options that are affordable and easily accessible. Most parking lots are in the middle of downtown, which allows you to be close to the action. Many of the attractions also have parking lots, including the casinos and hotels.
Walking: Walking around Niagara Falls is easy with most attractions located close to the Falls. If you're looking for a scenic walk, the Niagara Parkway offers a close view of the Falls that is connected to many of the city's main arteries including Clifton Hill. Many shopping centers, gift shops, dining options, casinos and attractions are just a short walk from the hotels.
Biking: The paved trails that surround the Falls allows visitors to indulge in a beautiful natural landscape while making it possible to travel to different attractions. This active option is great for summer vacations and bike rentals make it so you don't have to bring your own with you. If you're looking for a longer bike ride consider heading to Niagara-on-the-Lake and biking to a few of the closely clustered wineries in the area.
Cabs: If you need to get somewhere in a hurry and you don't want to get behind the wheel, a cab is a great option. Here are a few taxicab phone numbers you can add to your phone in case you need a lift in a hurry:
Niagara Falls Taxi Ltd. – (905) 357-4000
50-Taxi – (905) 358-3232
Elite Taxi Ltd. – (905) 356-9990
Helicopter: If you're looking for a unique option try going by helicopter! You won't be able to get from point A to point B but this attraction Niagara Helicopters gives a fascinating view of the city from high above.
The city offers several transportation options that will get you where you need to go this summer so you can focus on having fun and not worrying about how you'll be getting around.