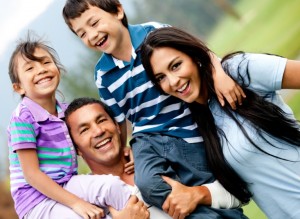 It can be a headache planning a family vacation. You have to consider all your options when it comes to accommodation and food. You have to think about attractions that will suit everyone's interests. You have to weigh costs.
By now you've probably realized that Niagara Falls is the only place you'll be able to make every member of your family happy — activities and attractions are so varied that all manner of interests are easily addressed — but here are a few reasons you should choose the Skyline Inn as your base of operations.
The Deluxe Family Suite
Vacations can be tricky when you realize that you'll be spending large amounts of time in rather close proximity to your sometimes exhausting albeit beloved family members. Instead of trying to cram everyone into a single-bed room, ensure your vacation is relaxing as well as fun by booking our Deluxe Family Suite.
The Suite features two roomy queen beds and a separate sleeping area with double-sized bunk bed. Depending on the size of your family, everyone could have a bed to him- or herself; at the very least, you won't have to be tossing and turning all night in one bed piled high with people. Plus, each sleeping area has its own television, so when you're relaxing in your room, you won't have to fight the kids to control of the channel. The Suite also has an upgraded, spacious bathroom with all the amenities you could dream of — though you still might need to form a line to finish up everyone's morning routines.
Dining Opportunities
The hotel has plenty of connections to family-friendly and delicious restaurants. Directly attached to the hotel, you'll find the Perkins Family Restaurant which serves all three major meals with a variety of options to please all taste buds. Additionally, connected to the hotel via skywalk, the Hard Rock Café is a veritable dining experience filled with music, memorabilia and fun. Additionally, if you'd like dinner with a view, the Fallsview Restaurant has one of the best panoramas of the falls around.
The best thing about these dining options is that kids can eat absolutely free! At Perkins Family Restaurant and nearby Planet Hollywood, with the purchase of an adult entrée, you can feed your kids without dropping another dime.
In-House Entertainment
After a day of wandering around Niagara Falls and seeing everything there is to see — and trust us, there's so much to see — you'll probably want at least one easy night in. Nights at the Fallsview Water Park can give you just this.
Family Movie Nights are available to help calm down excited kids and give parents a comfortable and well-earned rest. Change into your pajamas and bring your pillows and blankets down to the indoor courtyard to find a giant living room replete with a huge movie screen. Movies rotate nightly, so you don't have to worry about catching a repeat!
Fallsview Indoor Waterpark
Last, but certainly not least, Skyline Inn's useful skywalk connects families to Niagara's renowned indoor waterpark. Don't worry about forgetting anything in your suite; you can easily commute from the park to your room without worrying about traffic or parking. Spend a day splashing in the pools or slipping down slides with frightful heights and speeds, then relax all night without ever leaving the comfortable climate-regulated inside rooms.