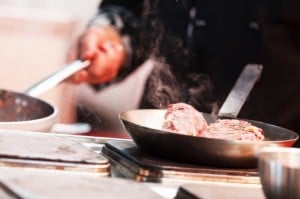 Niagara Falls is full of top-tier dining opportunities, but one of our absolute favorites is The Rainbow Room by Massimo Capra. Open for breakfast, lunch, and dinner, this restaurant is dedicated to providing visitors with the most delicious meals they've ever tasted. Dishes are delicately crafted out of ingredients sourced right from Niagara's backyard, meaning The Rainbow Room has the freshest and most flavorful food around. The Rainbow Room has been serving an unparalleled culinary experience to Niagara Falls patrons — including notable guests such as royalty and celebrities — since 1929, and it only continues to raise the standards of dining with its menus today.
The genius behind The Rainbow Room is none other than world-renowned chef Massimo Capra — but who exactly is this culinary mastermind? Read on to find out more about Capra's brilliance and to learn why one of the world's best chefs chose to set up shop in the Niagara region. Then, when you're dining on his fantastic fare during your Niagara Falls vacation, you can truly appreciate your culinary experience.
The Fascination Begins
Massimo Capra was born and raised in Italy. While growing up in Cremona, Capra was active in his family's household, especially when it came to tending his father's garden and helping his mother in the kitchen. This is where Capra developed his intense love of foods and flavors, as well as his understanding of the importance of freshness. Capra had a busy young adulthood, during which he enlisted in the armed forces and attended culinary school. Capra eventually got a job offer in Toronto, where his culinary career truly began.
Years of Training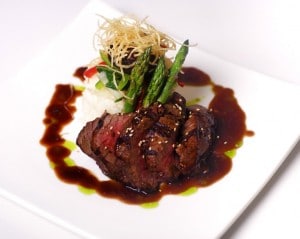 Capra worked for seven full years at the now-defunct Archer's Kitchen, learning the ins and outs of a real restaurant kitchen. However, when the opportunity arose, Capra was eager to make the move to a more prestigious restaurant: Prego Della Piazza. Michael Carlevale, the owner of Prego Della Piazza, saw promise in Capra, and invited him to join the team as a true chef.
In one of the more trendy neighborhoods of Toronto, Prego Della Piazza was popular among celebrities and other socialites. It gave Capra the opportunity to make his work truly shine — an opportunity Capra took full advantage of during his nine-year stay at the restaurant. Capra gained such notoriety for his food at Prego Della Piazza that he was invited to develop the concepts for two of Carlevale's new restaurants. Chefs all over the world began to notice and appreciate Capra's world-class meals.
A Worldwide Sensation
Now that Capra had proven himself in the culinary sphere, he was able to devote his talents to pursuits he was truly passionate about. Joining forces with other renowned chefs in the Toronto area, Capra began to open a series of restaurants in the late 1990s and early 2000s. Combining fantastic food with sensational service and exciting atmosphere, Capra's restaurants are generally lauded as some of the best culinary and culture stops in all of Canada.
Since his success, Massimo Capra has appeared numerous times on various food-centric television shows, and he has even published a line of recipe books and cookbooks that instruct regular chefs to create Italian masterpieces in the comfort of their own kitchens. However, if you want the real Massimo Capra experience, you simply must dine at The Rainbow Room the next time you're in Niagara.