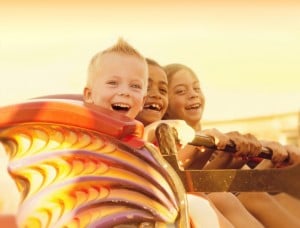 While many visitors to Niagara Falls would probably (accurately) declare that our beloved city is an amusement park altogether due to its dedication to fun and excitement at every turn, the region is home to three unique amusement parks built specifically with visitors' needs and desires in mind.
Each of our three parks boasts sights, sounds, and experiences truly unlike any other in the area, and they are bound to delight kids from age 3 to 103. After you're done viewing the Falls during your next trip to Niagara Falls, visit one or all of our three exceptional amusement parks for a time you won't soon forget.
1. Marineland Canada
This park is heaven on Earth for visitors looking to combine their dual loves of high-flying adventure and marine biology. Marineland Canada began as a marine zoo, where visitors could come to see and learn about various aspects of life under the sea. The park still places a strong emphasis on education, and several exhibits on marine mammals, birds, and fish are sure to teach your family about the importance of conservation and preservation.
However, Marineland also understands their visitors' need for fun. Not only can you see the park's animals lounging comfortably in their own habitats, but you can watch them play in a handful of carefully choreographed shows and skits designed to make you laugh — and gasp in awe. What's more, determined visitors can even get up close to their favorite creatures. Orcas, dolphins, beluga whales, and more have distinct habitats where guests can feed, pet, and possibly even train the animals to their hearts' desire.
Believe it or not, that isn't all the fun Marineland can provide. In fact, this park offers visitors the most thrill rides and play areas of any park in the city, which means that you and your family could spend days here without repeating an attraction once. From simple log rides to wild roller coasters, the park's rides are numerous, and there is destined to be one to perfectly suit the tastes of everyone in your clan.
2. Fallsview Indoor Waterpark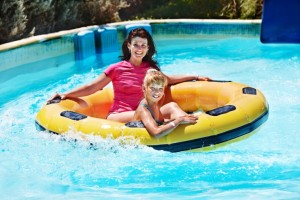 The world may be covered in waterparks, but not one of them stands up to the amenities and wet and wild fun available at Fallsview Indoor Waterpark. This park contains all the elements you'd expect to find at a typical waterpark — slides, wave pools, play areas — but it makes them legendary to the extreme.
There are literally dozens of waterslides in Fallsview, each with its own thrills. For example, the Extreme Racing Slides will pit you against a friend in a breakneck race to the pool to the bottom, and the Canadian Plunge will see you whirling and spinning as your inner tube takes you on a wild ride down a narrow slide. Meanwhile, less adventurous guests can soak in any of the pools or lounge on the decks while ordering food and drinks from the Planet Hollywood Beach Club restaurant.
3. Safari Niagara
Most people don't come to Niagara Falls expecting to see exotic animals like lions, giraffes, and hippos, but at Safari Niagara, that's just what you get. With more than 500 wild and domestic animal species to see and interact with, this zoo provides Niagara visitors the chance to learn about animals they've never known about before. Zookeepers guide guests around the zoo, providing facts about each of the exhibits; plus, presentations in any of the park's various amphitheaters will educate listeners on anything from the preservation of threatened species to up-close introductions of individual zoo inhabitants. On top of this, the park offers a handful of fun rides to keep little minds entertained: visit the rope course, bungee experience, or animal splash pad for extra fun.