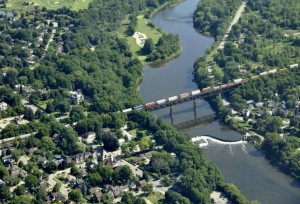 Cycling continues to grow in popularity around the world as a way to practically get around, while also experiencing a new land or culture in a one-of-a-kind way. Because it's has a much slower pace than motorized transport, bicycling provides travelers with a unique experience of a place.
But very few people want to have to spend every minute on their bicycle when they've headed out to see a new part of the world. For the visitor to Niagara, who'd like to see the area on a bike without always having to be on her bike, Ontario's Bike Train is the perfect way to explore the region.
The Initiative
Select passenger trains now have bike racks installed onboard so that anyone embarking on a cycling holiday can hop on and off the trains with greater ease. A project of a non-profit called Transportation Options, the goal of Bike Train and similar initiatives is to promote and stimulate transportation systems that are sustainable.
Over 2,500 riders have utilized the Bike Train since it started in 2007, and it has proven itself to be an economic, environmentally friendly, and flexible way for people to see Ontario by bicycle, especially as route options throughout the region continue to expand.
Routes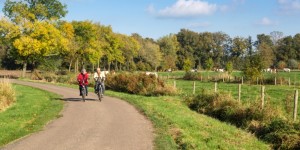 Depending on how much biking you'd like to do, where you'd like to go, and how much time you have in which to do it, there are a number of different routes the biking enthusiast can take when traveling via the Bike Train. During the summer months, train service is offered between Toronto's Union Station and Niagara Falls Station with a handful of stops, including one at St. Catharines.
There is also Bike Train service from Windsor to London to Toronto, as well as a route that will take cyclists between Toronto and Montreal with numerous stops in between. It's on this last route that cyclists can gain access to the Lake Ontario Waterfront Trail that follows the coastline of Lake Ontario from the United States border at Niagara-on-the-Lake all the way to the Quebec border just off Cornwall.
For the biking enthusiast who wants to see some of Niagara's famed wine country, Ontario's stunning countryside, and quaint villages and border towns, it's 559 miles of beauty, culture, history, and fun, and the Bike Train provides connection to many portions of it.
Benefits
The benefits of cycling are many. From great exercise and stress relief to saving money on gas and saving the environment, utilizing your bike to get around makes sense. And when you add in the option of getting further faster with Ontario's Bike Train, you can bicycle without being totally at the mercy of the speed at which your bike can travel.
So take the train to Toronto and bike back to Niagara Falls, or catch a ride to St. Catharines so you can spend the day in wine country. Whatever you choose, Bike Train lets you and your bike travel easily throughout the region.