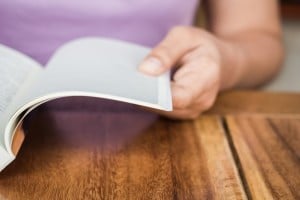 Niagara Falls and the region surrounding it are well known throughout the world thanks to the impressive display of Nature's power that exists in the Falls and the remarkable breadth and depth of world-class wine grown throughout the Niagara Peninsula. For most people visiting Niagara, these two attractions are almost always near the top of their must-see and must-do lists, which is as it should be — the wine and roaring waterfalls are second to none.
But Niagara is a place that is rich in other ways, too, which is why, in the winter of 2010, the people behind the Niagara publishing house and magazine "Grey Borders" decided to start up an annual event held throughout the Niagara region that would not just celebrate Canadian literature, but also the literature of Niagara. If you love literature, readings, book signings, and being introduced to new writers, you need to book a visit to Niagara Falls during the month of June so you can take in the annual Niagara Literary Arts Festival.
Now in its fifth year, the NLAF is a 100 percent volunteer-run literary festival that spans the month of June and Niagara and offers free or nearly-free events the entire month. While it has not yet reached its long-term goal of being able to feature one event a day in every Niagara municipality for the entirety of the month of June, its current offerings are still impressive.
From poets and novelists to collaborative arts initiatives on the cutting edge, this year's literary arts festival will take place in cafes, malls, museums, and pubs throughout the Niagara region as the NLAF continues its upward and forward momentum. Here are just some of the authors you can look forward to at this year's festival:
Stuart Ross. A Canadian poet, fiction writer, creative writing instructor, and editor, Ross was born in Toronto but grew up in New York. His work has won numerous awards including the 2010 ReLit Award for Short Fiction, the Elaine Mona Adilman Award, and the Exist Through the Gift Shop Award.
Shirley Camia. Born and raised in Winnipeg, Camia is a broadcaster and journalist, who just released her debut collection of poems, "The Significance of Moths," to rave reviews.
Lindsay Jack. A performance artist and community organizer from St. Catharines, Jack is a poet who specializes in slam poetry. Jack founded the Kitchener Waterloo Poetry Slam and Brock Pride's Outspoken series. He has received a Word of Mouth grant and was a finalist at 2013's Canadian Individual Poetry Slam.
Keith Henderson. A Montreal native, Keith Henderson is the author of three novels and an award-winning collection of short stories. He teaches English Literature in Montreal at Vanier College.
John Terpstra. A Hamilton, Ontario native, Terpstra is a poet, artist, woodworker, teacher and cabinetmaker, whose collections of poetry have won numerous awards.
And many more!
Whether you love poetry, fiction, romance novels, or travel writing, the Niagara Literary Arts Festival has something for you somewhere in the Niagara region throughout the entire month of June.