Along with the stunning sights and world-class entertainment, Niagara Falls has a lot to offer in the way of educational experiences. Here are three upcoming events in Niagara Falls that are sure to be both fascinating and informative, making them perfect for people of all ages to enjoy:
Wild Ontario Exhibit at the Niagara Falls Butterfly Conservatory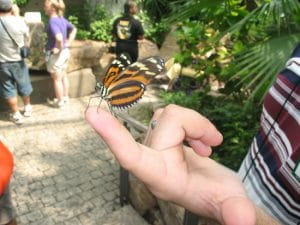 From April 29-11, you can stop by the Niagara Falls Butterfly Conservatory to experience the brand new Wild Ontario Exhibit, which will showcase Ontario's incredible biodiversity and diverse range of species. Learn about the:
animals

mammals

birds

reptiles

amphibians

fish

 

barn owl

skunk

wood turtle

common toad

yellow spotted salamander

garter snake

black widow
and more. Along with live animal exhibits, you can explore fascinating panel displays that focus on our province's major ecosystems and species – both common and endangered.
Sidney Barnett's Exploration of Egypt at the Niagara Falls History Museum
It was in November of 1862 that adventurer Sidney Barnett wrote a fascinating lecture about a journey he took to Egypt collecting artefacts for the Niagara Falls History Museum. And now, Barnett's hand-written notes have been added to the museum's collection and will be performed as a lecture by local performer David Mackenzie on May 25.
Free Historical Walking Tour of Niagara Falls
Niagara Falls is rich with history and on June 4th, you can experience it first-hand on a free historical walking tour of the city. Join the city's official historian, Sherman Zavitz, for a mesmerizing walk through the past on an informative tour that starts at the corner of River Road and Bridge Street.