Imagine the delight and joy of your little one when they start their day in Niagara Falls with a visit from Princesses Elsa and Anna!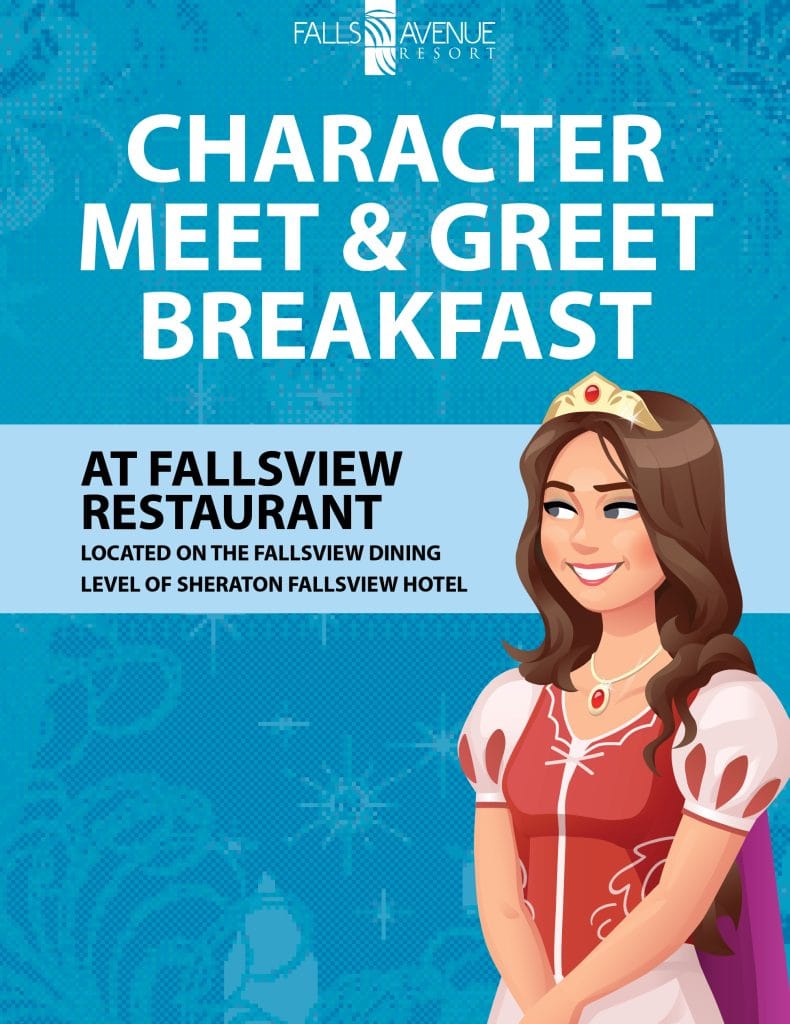 The Fallsview Restaurant is excited to announce that the Princesses will be visiting Niagara Falls on select dates to greet and interact with guests.
Elsa and Anna will be available for a Meet & Greet from 8:00 am-9:00 am on May 28th-30th, and on Saturday and Sunday Mornings each weekend until August 7.  Reservations are not required, though paid breakfast is required to participate.  The Fallsview Restaurant is located at the adjacent Sheraton Fallsview Hotel, and features spectacular views of Niagara Falls, and a delectable breakfast buffet to fuel a day of sightseeing and exploring.  The restaurant is also featuring Kids Eat Free Dinner each night from 5:00pm to close.  Receive one child buffet dinner free with the purchase of an adult dinner buffet (valid for children 12 years and under, dinner only).
The Princess meet & greets are an exciting addition to a family getaway in Niagara Falls.  The destination features attractions and entertainment for guests of all ages, and our Niagara Falls Hotel puts you in the centre of the excitement. With spacious guestrooms, family suites and bunk bed suites, Skyline makes for a comfortable host during your stay.  Reserve a Hotel Waterpark Package featuring accommodations and 4 waterpark passes and enjoy the thrills of Fallsview Indoor Waterpark. For weather-proof family fun, our hotel offers a convenient indoor walkway to the waterpark and the 20 acre Falls Avenue Resort Entertainment Complex which is home to attractions, and dining options including Adventure City Arcade, Rainforest Café, Hershey's Chocolate World Niagara Falls, and more.  A stay at Skyline Hotel & Waterpark also puts you just a two-minute walk from Niagara Falls, and some of the top attractions in Niagara Falls such as Clifton Hill, Niagara City Cruises, and Niagara Parks.
To enhance your Niagara Falls getaway, take a short walk to the Falls to enjoy the nightly fireworks displays and Falls illumination.  Fireworks displays light the sky at 10:00 pm every night from May 20th to October 10th, while the Falls Illumination display can be viewed every night of the year starting at dusk.
Make Summer Vacation 2022 a Trip To Remember, Reserve Your Niagara Falls Getaway Today!