A large component of any family getaway is where you decide to eat. In Niagara Falls there are endless choices with a multitude of cuisines and menus available.  When you are a guest of Skyline Hotel & Waterpark, you are steps from many of the top Niagara Falls restaurants for families.
Perkins Family Restaurant
Located at our Hotel, Perkins Family Restaurant offers a wide selection of family favourite appetizers, entrees, and desserts for each meal of the day. Their menu features their famous all-day breakfast, burgers, sandwiches, salads, pasta, and seafood. Perkins also features an extensive Kids Menu and an exceptional dessert menu. Their fresh baked pies, pastries, and cookies are a long-time favourite of those in the tourist district.
Fallsview Buffet Restaurant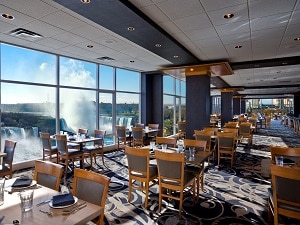 Located at the Sheraton Fallsview Hotel, Fallsview Buffet Restaurant has two special family dining offers available; Character Breakfasts and Kids Eat Free Dinner.  Join Princesses Anna and Elsa as they Meet & Greet guests at the restaurant from 8:00am-9:00am on Saturdays and Sundays until August 7.  The Character Breakfasts are an exciting start to the day with a delicious breakfast buffet that will keep the whole family powering through your visit to Niagara Falls.  If buffet sounds like a great start and the kids aren't interested in a character meet & greet, the restaurant does offer buffet brunch daily.  If a special dinner fits into your plan, the restaurant is featuring a Kids Eat Free Buffet Dinner each night from 5:00pm to close.  Receive a child buffet dinner free with the purchase of an adult buffet dinner.  This offer is available for guests 12yrs and under. Recognized for its extensive buffet and spectacular views of Niagara Falls, the Fallsview Restaurant makes for a great option, especially when dealing with picky eaters.
Hard Rock Cafe
Another great option is Hard Rock Café Niagara Falls. With its rock and roll theme, priceless musical artifacts, and an extensive menu of food and drink options, it is a great spot to dine and introduce the kids to some icons in music history. A recent renovation welcomed a Canadian collection of artifacts with pieces from RUSH, Alanis Morissette, Shania Twain and more.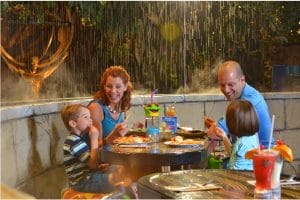 Rainforest Cafe
Did you know that the only Rainforest Cafe in Canada is steps from our hotel?  With a large menu of wraps, salads, burgers, sandwiches, and pasta there will be something for everyone to enjoy and the surroundings are even more impressive. Entering below an 80 volcano, you dine under a simulated rainforest canopy in the company of animatronic creatures including a family of Elephants, Gorillas, and a Snake. The incredible atmosphere also includes an indoor thunderstorm every 20 minutes, complete with lightning, thunder and rainwall.
Hershey's Chocolate World
No trip to Niagara Falls is complete without a stop at Hershey's Chocolate World Niagara Falls.  The only store of its kind in Canada, it is 7,000 sq feet of chocolate heaven. This unique retail attraction, features a wide selection of treats, packaged items and exclusive products. Hershey's Milk Chocolate covered strawberries, freshly baked mouth-watering cookies, and thick milkshakes topped with whip cream and a signature Hershey's Kiss are among the favourites for a decadent dessert, but the solid 5lbs Milk Chocolate Bar is a showstopper.
Dining with little ones can be a challenge, but with a plethora of Restaurants in Niagara Falls steps from the Hotel in the tourist district, there is an option for everyone to enjoy.
Make family memories with a Hotel Waterpark Package!