Planning to visit Fallsview Indoor Waterpark this Summer?  Make it the highlight of your family summer vacation to Niagara Falls with a few handy tips on how to pack for your Waterpark Getaway. These are a few of the travel-tested tips that Waterpark fans have shared with us and include a few items that you need to know in advance.
What To Pack
If your plan is to head to the Waterpark as soon as you arrive, you may prefer to wear your swimsuits under your street clothes to save time changing. If this doesn't suit your family, change rooms are available at the Waterpark.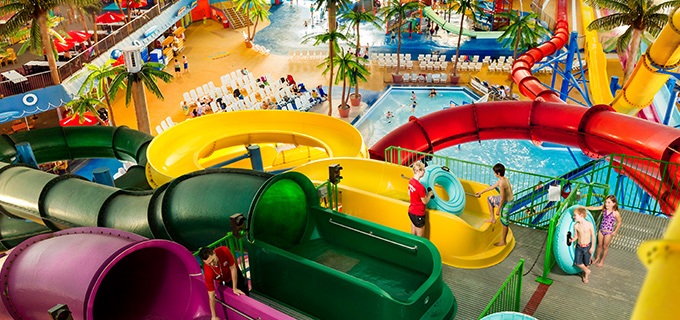 Experienced Fallsview Waterpark guests recommend packing a small "Waterpark" bag with essentials that is separate from your luggage. If you have reserved a Hotel Waterpark Package at Skyline Hotel & Waterpark, this will allow you to store your luggage at the hotel and head to the Waterpark with ease if your room is not ready for check-in. Suggestions to include are towels, an extra change of clothes, swim diapers and diaper changing supplies (if required), water shoes or flip-flops, and floatation devices (approved by the Ministry of Transportation/Coast Guard).
We recommend you pack towels from home as complimentary towels are not available at the Waterpark. If you've forgotten a towel, a variety are available for purchase in the Waterpark.
Digital lockers are available to rent via self-serve kiosks that only accept credit and debit cards, so plastic payment options are suggested.
What Not To Pack
Like most Waterparks, Fallsview does have a list of items that are not permitted. These include outside pool toys or balls. The park does provide a limited number of lifejackets and beach balls. Mats and tubes for use on the slides are provided.
Long jewelry, swimsuits with metal buckles, zippers, rivets, dangling laces, and lifejackets are not permitted on any slide.
Outside food and drink is also not permitted. The Beach Club is located on-site so you can purchase snacks and drinks. If you've forgotten an important item, see guest services which can assist with swimwear, swim diapers, and other essentials for your convenience.
What To Know
Take a moment to review the hours of operation at Fallsview Waterpark, watch for dates that have early access for Waterpark Package guests. This time is exclusive for guests staying at the participating hotels to enter before the park opens to the public.
Safety is of the utmost concern at Fallsview Indoor Waterpark so various rules and height requirements are in place to ensure that everyone has fun but remains safe. Different slides have different height requirements so be sure to check the Waterpark FAQ's to determine what attractions your child can and can't use. For instance, children less than 48 inches in height can't use the Extreme Mat Racers slide.
As a family-friendly attraction, the waterpark does maintain rules about appropriate swim attire. Please keep this in mind when choosing your swimsuit for your day at the waterpark.
Make a splash this Summer, and travel with ease! Reserve your Niagara Falls Hotel Waterpark Package, grab your swimsuit and towel and visit us at Niagara's best indoor waterpark for a spectacular time!